Winter is a time for getting cozy, hibernating, and spending time with friends and family in the comfort of your home. If you're lucky, you have a lake house to which you can retreat even at the height of winter. Some think winter lake house scenes are the prettiest of all. If you prefer to stay inside out of the cold, here are some fun winter time activities you can do at your lake house this season:
Indoor Ice Skating
If you have elastic bands, some wax paper and carpeting, you can go indoor ice skating without getting frostbite! This is great for little kids who will fill the lake house with hoots and hollers as they "skate" around your area rugs and carpeting. Place wax paper underneath their feet and secure around the ankles with elastic bands, then let them loose. Just be careful, as it can get quite slippery.
Make Snowflakes
This is a creative art project young and old will love. Grab some coffee filters and scissors to make a variety of unique designs that are one of a kind – just like the real versions. Throw them into the air when you're done for an indoor snowflake blizzard sure to please.
Build a Newspaper Snowman
If you still don't want to venture outside, or your area hasn't been blessed by snow yet, make your own indoor version with newspaper and accessories. Ball up newspaper into three sections held together by tape, then add a construction paper nose, eyes and buttons. Top with a winter hat and scarf, then run outside to grab a couple of twigs for arms. Voila! An instant indoor snowman. Bonus: you can put it in the recycling bin when you're done with the fun.
Craft a Winter Tree Painting
On a piece of paper, arrange torn pieces of masking tape in the shape of a tree and its branches. With your paintbrush, color the portrait in various shades of water colors. Let dry completely, then peel off the masking tape to reveal a beautiful silhouette of a bare winter tree.
Sip Some Peppermint Hot Cocoa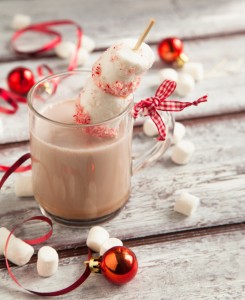 What's better than hot cocoa as you gaze out the window and watch the snow fall at the lake? Try a twist on standard hot cocoa and give it a peppermint splash. For the mix you'll need:
1 ½ cup powdered sugar
1 cup 2 tbsp cocoa powder
5 candy canes
Place candy canes into a sealed plastic baggie and use a rolling pin to smash them to a fine powder. This is the fun part! Need to get out your aggressions, anyone? Add the candy cane bits to the other ingredients and combine well. Add 1 ½ to 2 tbsp of the mixture to one cup of warm milk. Top with marshmallows if you want, and enjoy.
Winter time at the lake house is a special time. Enjoy these cozy days while you can!