Testimonials
Best dock ever made I'd buy another one in a minute.
-Janice S.
- Best dock ever
Love our new dock!! We've Have had lots of complements already.
Thanks for having a great product. Have a great summer!!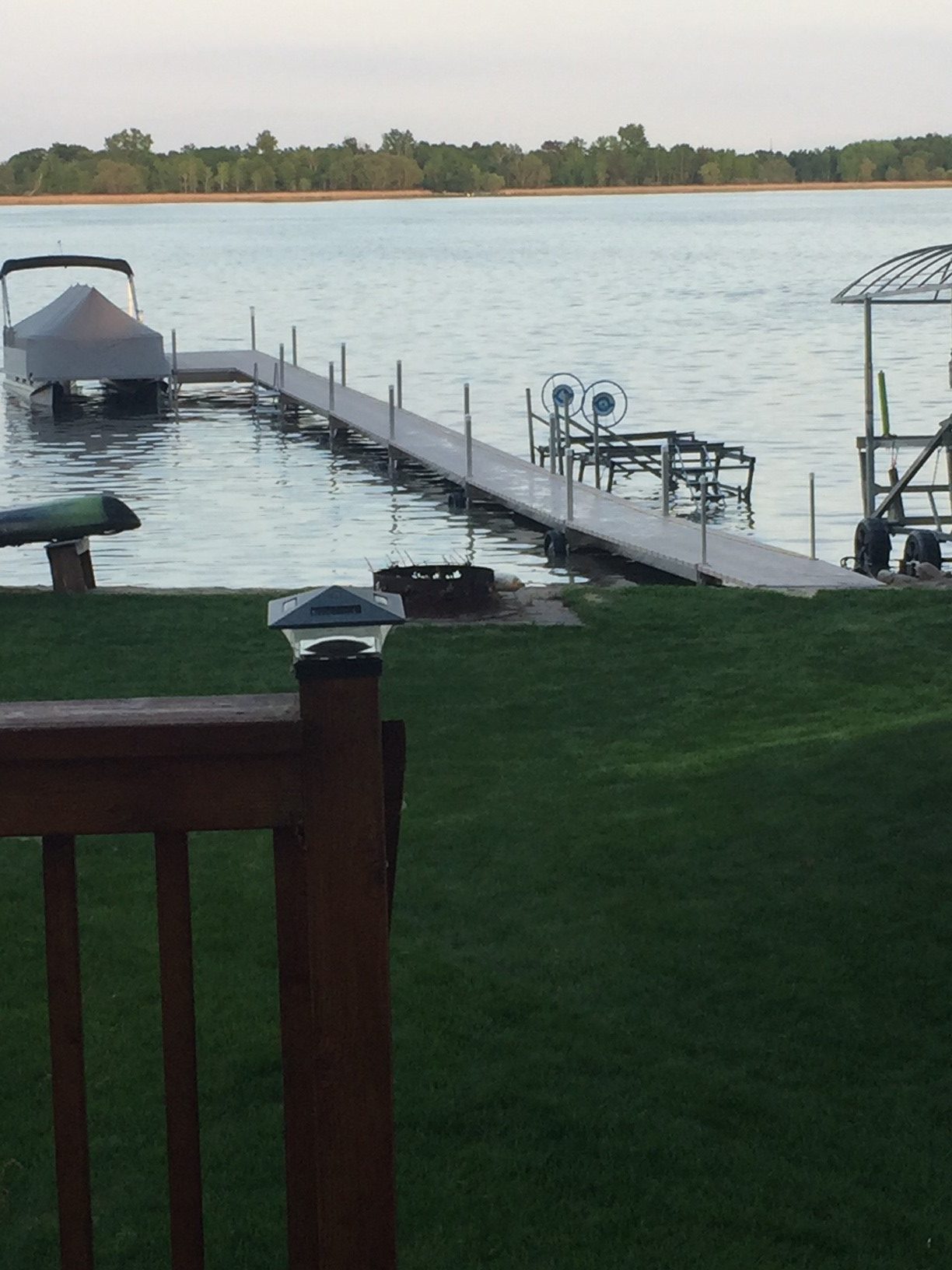 - Rick and Jean Krueger
- Best dock you could possible buy bar none -Janice S.
We have been a customer for over 20 years and highly recommend V-Dock. We have added sections and accessories over the years. This year we had some wind damage and our insurance did not cover it. Luckily it was a V-Dock and even though we couldn't get it replaced, we were able to repair it with only one piece. We never thought it could be good as new based on he way it looked when it was damaged. The customer service is great, too!
- C. Espiritu
I just wanted to let you know your docks are a great product.  I have had one for several years, and it has worked great for us. – Mike Donnelly
- – Mike Donnelly
The dock is in and it is beautiful the construction is beyond our expectation. We have had the best experience from the day we walked into your showroom until today. Thank you for making such a great product. Christine E. – Cumberland Wi.
- Christine E. – Cumberland Wi.
The lights I ordered from you, works absolutely great!!!  I wish I would have ordered then years ago when I purchased the V-Dock from you.  Thanks for selling a no hassle dock system that in and ready to use in minutes.  – Andrew. Peterson
- Andrew. Peterson
My V-Dock is 18 yrs. old & looks like it was just installed.
- Mary Kath
Rick, I had to take a minute to tell you how much we enjoyed our new V-Dock purchased this past spring. Everything from working with you in determining what we wanted, the convenience of having all of the sections preloaded on a trailer for us to take to the cabin, the ease of attaching the sections and almost effortlessly pushing the dock in with my husband and father-in-law, countless evenings sitting on the dock watching beautiful sunsets and catching the first of many fish to come and then finally my shock that in a mere 6 minutes the pins were pulled and the dock was pulled from the water for its winter storage.
We spent countless hours at every sportsmen's/recreational show researching and reviewing docks and I have to say that your product is by far the most superior of them all.
With much thanks,
- John and Kim Tophen – Pillager, MN
I cannot say enough good things about V-Dock and any one purchasing a dock should know that they have a product that can be relied upon for 30+ years, and can be joined with virtually any V-Dock product from the last 30 years to extend or expand your dock project. Thank you Rick for your help, you have a great company and a great product.
- David Hunter
"Colleen and I knew we made the right choice buying your dock just by the superior quality of your product."
- Keith and Colleen B. Long Lake
"We love our new steps! They are so safe and sturdy. My Mom thanks you too. She has not been able to get in and out of the lake for a few years, because she has bad knees. This summer she swam with the grandchildren at our Fourth of July party!!! Keep up the Great Job."
- Gordy & Cathy B. Garrison, MN