An alternative to a Roll-In Dock when…
Water depth = 7 feet or more of water
Mucky lake bottoms = 1 foot or more of muck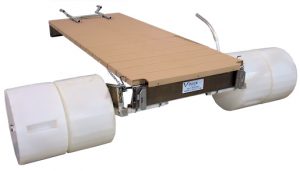 The "One-Person-Keep-Dry Dock System"
To install a post sectional dock, two people typically carry it out to the cold water and place in posts. With V-Dock's exclusive Roll-n-Float System, a dock can be put in the lake by one person easily, and no one has to get in deep water. The float pieces simply attach into the end of the dock, roll across the shore, and move out into the water. Once the floating dock is in place, one person can walk out onto each section to install the posts. After the posts are securely in place, remove the floats, and repeat with the next section. It's called building from the shore out. V-Dock's Roll-n-Float System is the ideal solution for installing docks in lakes where the water or muck is too deep or too cold for walking.
Just 8 Quick and Easy Steps to Installation:
1.) Install Roll-n-Float System to V-Dock's Post Sectional Dock.

2.) Roll a section to the shoreline.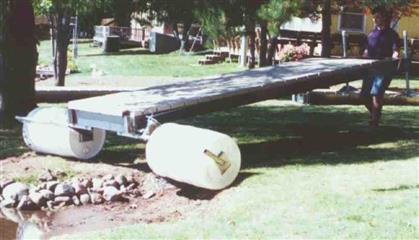 3.) Float the section into position.

4.) Mount posts into the patented break-away brackets. Mucky bottoms are no problem !

5.) Pull up on the handle to release floats and unhook chain.

6.) Slide the lightweight floats out of the dock and carry them back to shore. Mount onto the next section.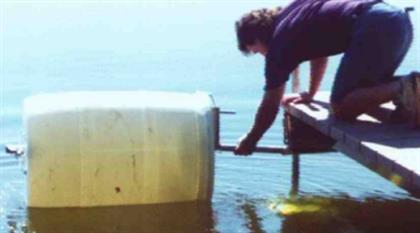 7.) Float next section into place.

8.) Latch sections together – No bolts or nuts needed! Repeat steps 4 through 8 for more sections. To take out dock sections, simply reverse the steps !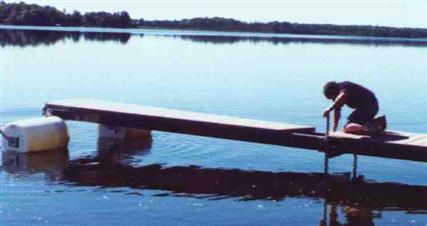 V-Dock Weight Chart
Weight chart
** Wheel kits and posts add additional weight. **
"Leave the decking on!"
One 4′ x 8′ section of V-Dock only weighs 105 pounds . . with the decking on!
Showing all 8 results