Poly-Deck T.M. Offers Many Benefits.
Here's just a few…
Choice of Two Colors
Off-White or Tan. Our colorant is not a surface application, it's consistent throughout each deck board, so the color won't scratch off. Years of testing has yielded a high quality composition of virgin resin and UV additive that is extremely strong and won't discolor. All decking is made at our Minnesota facility, so we maintain the optimal ratio of UV additive for maximum longevity for any climate.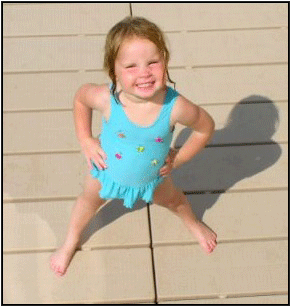 Cool to Walk On
Even on the hottest days, our Poly-Deck is cool to the touch. The specially designed textured surface is skid resistant, yet comfortable for little feet. All the decking edges are rounded for comfort and safety. You'll look cool too on a V-Dock!

Proof of Durability
See how V-Dock's patented Poly-Deck withstands extreme abuse. This decking was designed specifically for the V-Dock framework. It won't warp, bow or rattle. Each plank is interlocking and secures easily to the main frame. Extra ribs provide a superior support system throughout the whole width of the decking. It's part of what makes a V-Dock better than the competition. Our Poly-Deck is tough, yet still lightweight enough to move an entire dock with the decking in place.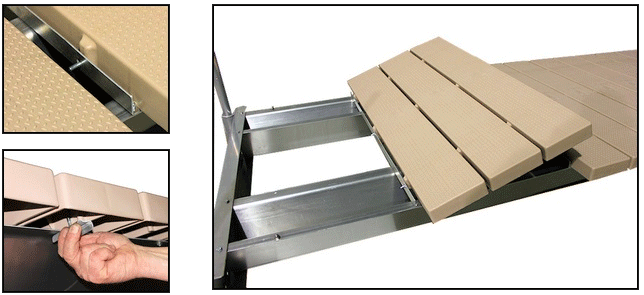 Patented Interlocking Decking
The patented Poly-Decking is exclusively designed for our V-beam framework. Some docks on the market today use a generic product for their decking that was originally designed for another purpose. In contrast, our framework and Poly-Deck are engineered to work together for maximum stability and minimal noise. The decking can be removed if need be, but it is so lightweight our docks are easily installed with the decking on. When walking on our Poly-Deck you will experience the peace and quiet that lets you enjoy your surroundings (and you won't scare the fish away).
Naturally Clean and Beautiful
V-Dock's patented Poly-Deck's have a raised non-skid surface that prevents dirt build-up and the individual planks allow for water drainage. It never needs maintenance; just a little rain will keep it clean.