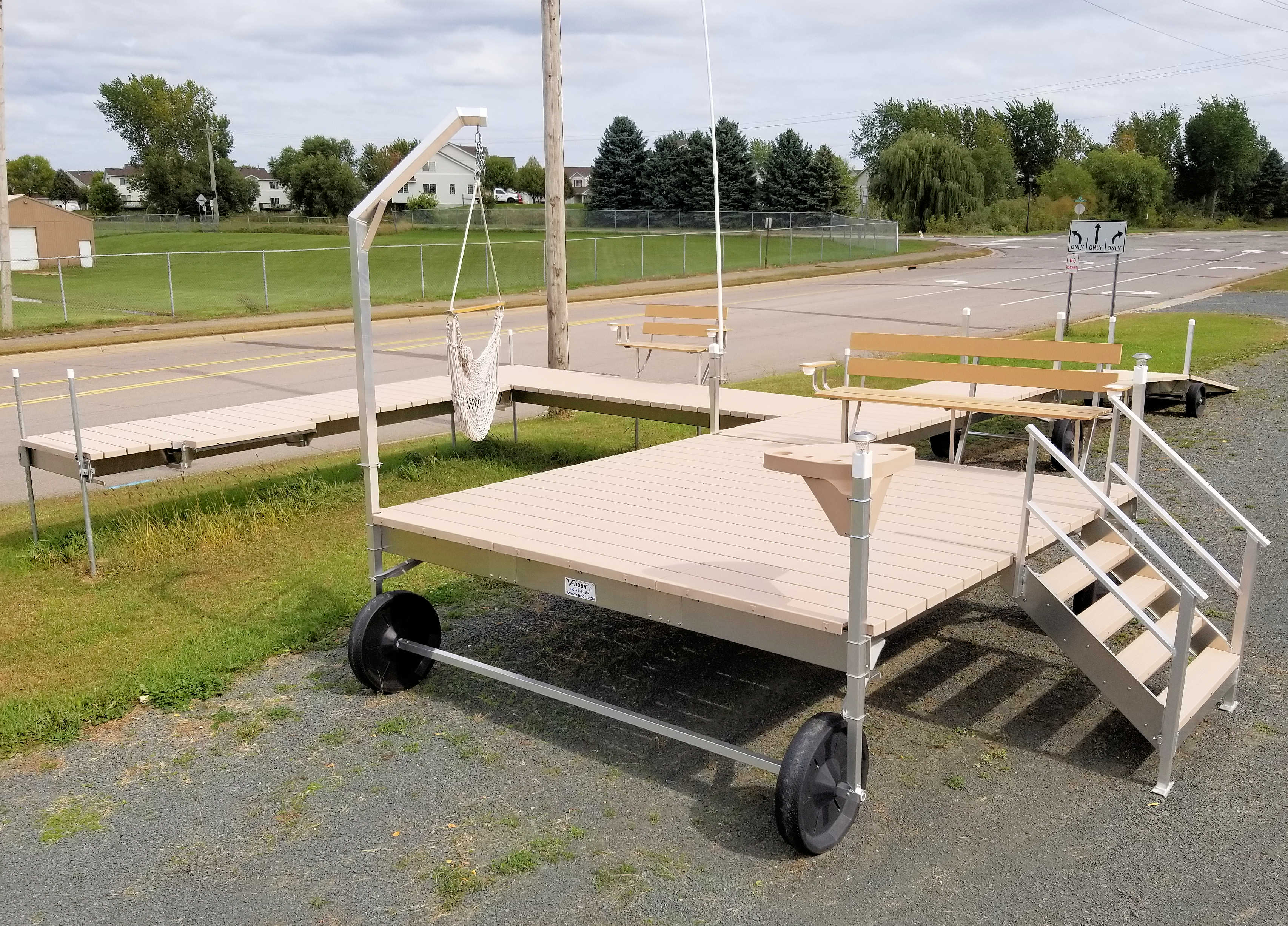 There's nothing better than a day on the lake, but you can enhance your experience by adding a dock. Docks allow you easy access to the water and a place to relax for fishing, boating, swimming, or even just lounging around.
Which Dock Should I Choose?
The key to selecting the right dock is thinking about what you plan to use the dock for. If you are boating, the size and shape of your vessel will need to be taken into account. Your shoreline—whether its sandy, deep, muddy, or steep—will be another deciding factor for the kind of dock you need (mucky lake bottoms or deep water, for instance, may require a a special type of roll in rather than a standard Roll in Dock).
Lastly, no dock is complete without accessories; consider investing in ladders, bumpers and stairs.
Choose Good Structure and Quality
The docks from V-Dock feature one-of-a kind, aluminum "v" shaped support beams—making them lighter, more flexible, and resistant to rust without compromising durability and support. Unlike traditional designs, this structure provides continuous support and absorbs movement, eliminating the majority of bounce and side sway. The highly-durable, scratch resistant poly-deck board, specifically designed for V-Dock, comes in your choice of tan or off-white and remains cool-to-the-touch no matter how hot it is. With clean lines and no openings for weeds to get caught in, these docks are picture perfect!
Available models include the highly popular Roll in Dock, the Roll-n-Float dock (best for deep and mucky waters), and post-sectional docks (great for steep and small shorelines). These options allow you to choose the dock that will work best for your needs and your shoreline. There is a variety of accessories available including dock bumpers, stairs, swim ladders, benches, lights, and more.
Installing Your Dock
Normally dock installation can be a hassle, eating your entire weekend and leaving you calling for a professional. Not so with V-Dock! The unique design of the Roll in Dock makes installation a breeze and possible even for a single person. There is also the option of mounting to a tow bar and using a vehicle.
With the Roll in Dock, you simply roll down to the shore and slide it in; you don't even need to get in the water and removal is just as easy.
For the Roll-in Float dock you build the dock section by section using the floaters. Simply attach the floaters and slide in a section into place. You can then walk on the dock and mount the posts into the patented break-away brackets. Remove the floaters and repeat with the next section till the job is done.
The post sectional dock follows the same concept. Additionally, you can easily add L, T, or slip pieces with hanger brackets without use of any bolts. This gives you plenty of options for customization and allows you to build an affordable, yet luxurious dock.
Safety Precautions
The special design of our docks keeps safety in mind with legs and posts set in from the edge of the decking, reducing the likelihood of boaters hitting the edge of the dock. Accessories allow you to add extra safety features including bumpers for boats. The design allows people of all sizes to swing their legs freely without hitting any metal trusses or getting caught in an open framework.
Installing one of our docks is a breeze, even for the first time buyer! After installing your Roll in Dock, you can relax and enjoy your summer on the water.