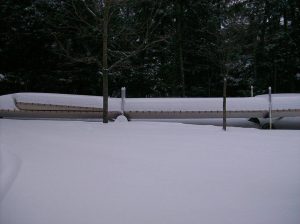 As another winter rolls around, the often thankless task of winterizing the docks approaches. The aggravation of de-icing and sometimes having to pull the dock out before water freezes over is a household tradition for those who live near the water, but for many dock owners, those hours of struggling to prep your dock for the cold weather are over.
A V-Dock is a portable docking system, meaning that getting it into and out of the water is a snap. The time-consuming task of winterizing and moving a dock can be all but eliminated, allowing you to get back to spending your time doing what you love. Here are just a few of the reasons why you'll be so glad to have a V-Dock this winter.
The Aluminum Dock Frame and Sturdy Build
V-Docks are designed with a sturdy aluminum dock frame which reduces overall weight, making it dock easy to support and the frame rust resistant. Not only is the V-Dock lighter, it works more efficiently as well. This lightweight, sturdy frame can actually hold the same number of people as a traditional wooden dock! Parts can be removed should they become damaged and easily replaced. Built and bolted together in Minnesota, these sturdy frames are backed by a 15-year warranty.
Patented Poly Decks
V-Dock's poly decks are another factor in how V-Docks are so easy to install and care for. V-Dock poly decking was specifically designed and patented for use with V-Docks, so unlike generic docks, V-Dock's parts are designed for each other. The poly decking is made from virgin resin and is UV- and crack-resistant. The decking includes an anti-slip surface while still being comfortable to walk on, even during the hot summer months. Unlike aluminum, the V-dock poly decks do not become burning hot under the summer sun.
Different Types for Different Waters
Unlike other, one-size-fits-all solutions, V-Docks are designed for different types of bodies of water. There are the common stand docks, which have legs and work as most typical docks do. There are also Roll-And-Float docks, which are designed for deeper waters. Finally, the most popular docks are the Roll-In Docks, which can be installed in less than five minutes. (The record, according to V-Dock, is 86 square feet of dock installed in 27 seconds.)
If you're dreading the task of winterizing a dock, this is probably the year to do something about it, and make every approaching winter a little less stressful. If you're ready for a no-fuss dock solution, consider installing a V-Dock, with its durable decking, sturdy frame and easy installation. Contact us today!