Many people go through a familiar chore at least twice each year – the chore of putting their dock in the water each spring and then taking it out of the water again in the fall. Docks are often heavy, cumbersome, and difficult to maneuver into the water. All of this is bad enough, but what about those people who have an uneven docking area offshore? Our unique screw drive legs have you covered.
A V-Dock roll-in dock makes the entire process simple. Unbreakable poly tires mounted on adjustable axles make it easy to roll a V-Dock into or out of the water. These docks are also designed to be easy to adjust to accommodate uneven ground beneath the water.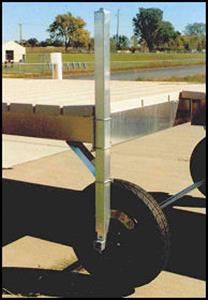 Each leg on the dock features a screw drive height adjustment capability. Adjusting the dock legs has never been safer or easier. There is no reason to get into the cold water to adjust the legs on a V-Dock. Simply turn the adjustment screw on top of the leg to adjust it to the desired height. The adjustment can be made using a removable hand crank or a cordless drill. The screw drive legs on our docks are also designed to be maintenance free, meaning that they will never need to be greased.
V-Dock offers five different screw drive legs to accommodate different water depths. The adjustable legs can be used in water depths of up to seven feet. All V-Dock legs have an adjustable range of 2.5 feet, giving the docks the flexibility to allow for easy leveling of the dock even if the depth is three feet on the port side and six feet on the starboard side. Despite any necessary adjustments, the legs remain the same height above the decking, maintaining a clean, uniform appearance.
V-Dock has been designing and building innovative docking solutions for more than 30 years. Contact us at 888-888-DOCK to learn more about any of the different V-Dock systems or to order your dock today.